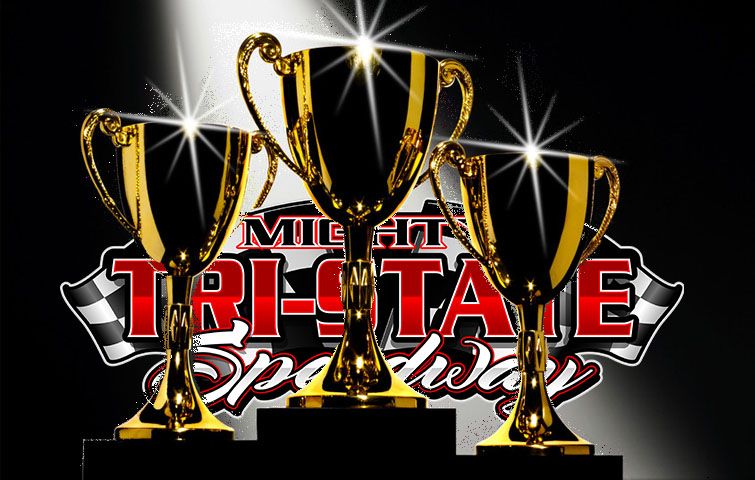 Latham Picks Up Second Victory as Lewis, Johnson, Palmer and Summerford Win Their First
Rob Nugent, Track Announcer/Social Media/PR
THE EVENT
POCOLA, OK (June 9th, 2018) – In a night that saw four of the five class winners take home their first trophies of the season, it was a great night of point racing action at the mighty Tri-State Speedway. Once again, Mother Nature graced us with mid 90-degree temperatures after watering her gardens with over two inches of rain the day before. The top-notch track prep crew had the track ready to go at race time, with no packing required from the drivers. The last feature of the night still had racing action three and four-wide at times.
The pre-race ceremonies started at 8:04 PM with the invocation followed by the national anthem as cars presented the nation's flag around the speedway.
Heat races were determined by the driver's draw at sign in. The classes advanced to their features heads up with an invert redraw that determined how many cars would be realigned.
At intermission, 50/50 money was given away as everyone had a chance to grab themselves some food items from the concessions along with an ice-cold Pepsi product as previous week's winners received their trophies and had their photos taken in front of the grandstands.
TOP THREE
The NexGen A Feature was completed just before intermission and saw Dylan Lewis (1) take the win in his first outing over Blaise Leatherman (94 – Muskogee, OK). Leatherman holds onto the point lead by 104 points. There is still time to get racing this season with your own NexGen car. The NexGen class is an entry-level, low-cost, no racing experience class. You can find the simple rules on our website, at www.Tri-StateSpeedway.com, under Driver Info and then Rules.
The first race on the track after intermission was for the Factory Stock A Feature. Justin Johnson (55 – Van Buren, AR) took the checkers for the first time this season over Wesley Bourne (5 – Cameron, OK) and Marshall Penson (1P – Van Buren, AR). Kyle Hamby (7K – Hackett, AR) retains his point lead by a 43-point margin.
Up next was the Out Pace USRA B-Mod A Feature where Chad Summerford (03 – Centerton, AR) headed to victory lane for the first time this season. Jacob Cox (99 – Pocola, OK) and Jay Rierson (71 - Booneville, AR) finished second and third. Daniel Tarkington (2 – Checotah, OK) stays atop the point standings for the class with a 30-pont advantage.
The Super Stock A Feature rolled onto the track next. H Palmer (X-15 - Muldrow, OK) took home his first win of the season over Dale Richardson (327 - Muskogee, OK). Gean Davlin (26 – Shady Point, OK) finished in third. Davlin keep his first position at the top of the point standings with a slim 13-point lead.
The USRA Modifieds took to the high banks last for their A Feature. Trevor Latham (27L - Rogers, AR) picked up his second win of the season over Lonnie Robins (33 – Alma, AR) and Michael Hines (57M – Van Buren, AR) in third place. George Martin (15 – Fort Smith, AR) moves to the point lead by just 18 points over Hines.
Complete race results can be found on under Results. Be sure to click on the red "See All Results" link at the bottom of the top five results for all results, including heat races and lower features. Current season points can also be found by clicking on the Points menu..
NEXT TIME
The next event for Tri-State Speedway will be on June 16th, 2018 for a full night of point racing action plus the Ca$h Money SuperDirt Series Late Models. After that, it will be a topless Out Pace USRA B-Mod special on June 30th.  Then the 47th Annual Firecracker Spectacular and 6th Annual Curtis Tennant Memorial will be here on Tuesday night, July 3rd. More information on all events can be found on our website and our social media channels.
We will see YOU soon!
---