Driver of the Week: Kyle Hamby
Written by: Mary Gray
Kyle Hamby started racing in July 2017 in the factory stock class at TSS.  He has a son, Kaleb.  He drives the black 7k that can be seen working its way through the traffic as clean as a knife. 
Kyle knew he was a "pup" and had to sit on the porch for a while until he could get the car set up and comfortable with running bumper to bumper with several seasoned drivers dominating the class.  He took his time and got acquainted with the track and the car.
 Last week, his 17th race of his career, he came off the porch and proved he could run with the big dogs. He got his first taste of victory with a hard charging win is his class.  He says he couldn't have done it without his pit crew, R. W. Adams, Brandon Harp and Jarrad Elmore.
 Kyle's proud sponsors are: The Gutter Guy, Phipps Chassis, Levi's
Diesel and Automotive, Hunt Construction and Byrd Heritage Stone and he sends a special thanks to Ray Phipps and John Hall for helping him get the car together and knows they have gone above and beyond and still help him during the week.
 Stop by and shake Kyle's hand and congratulate him on being TSS's Driver of the week.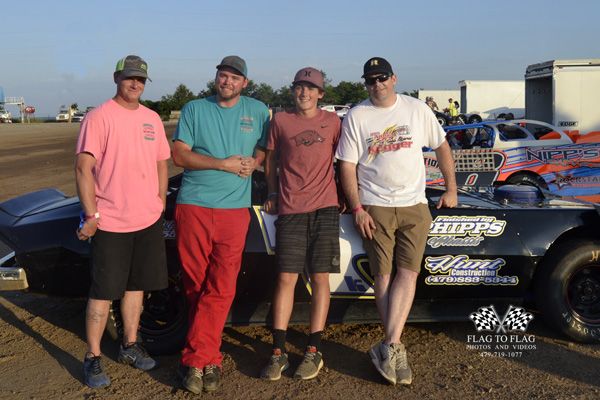 ---