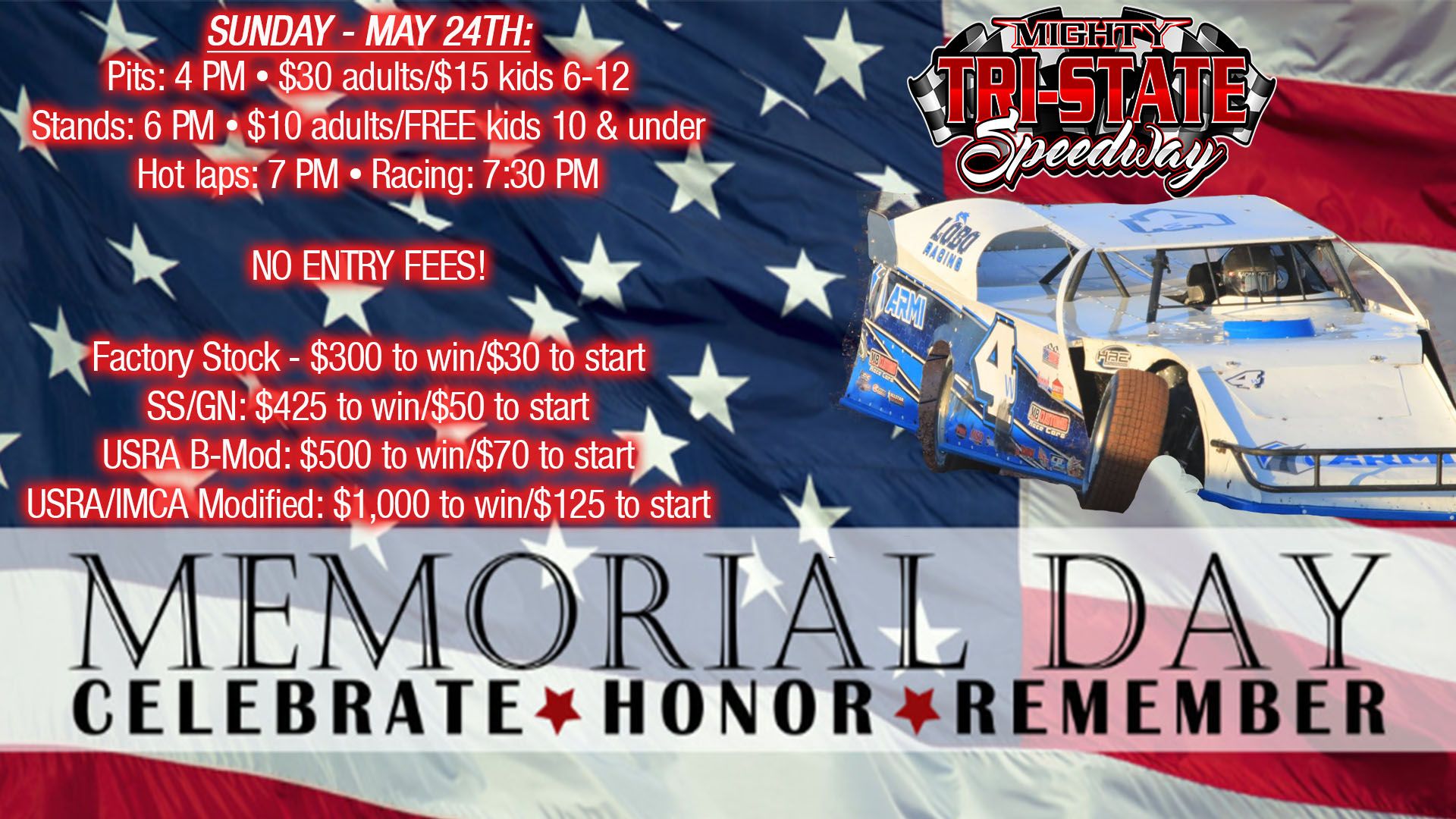 Memorial Day Weekend Races
🏁 The mighty Tri-State Speedway will be racing this Memorial Day weekend on Sunday, May 24th! 🏁
Sunday, May 24th – Regular Night of Racing. Hot laps start at 7pm, racing at 7:30pm
Pit Pass – $30 (Pit Gate Opens at 4pm)
No class entry fees. Must have/rent transponder: $5 plus a driver's license. Raceivers required (not available at the track.)
Grandstands: (Entry Gate Opens at 6pm)
Adults - $10 • Kids – 10 and under Free
Due to adhering of current social distancing rules, we will have limited seating in the grandstand area. Please be understanding if we request your seating arrangement to be adjusted according to CDC/State of OK policies.
• Factory Stock: $300 to win, $30 to start - 2020 Tri-State Rules
• Super Stock/Grand National: $425 to win, $50 to start – 2020 TSS or Area 2020 Rules (must provide a copy of your rules and no mixing of track rules allowed)
• USRA B-Mod: $500 to win, $70 to start - 2020 USRA Rules
• USRA/IMCA Modified: $1,000 to win, $100 to start - 2020 USRA/IMCA Rules. IMCA cars can run USRA spoiler and tire rule.
No USRA/IMCA license required. No points (track or USRA/IMCA) will be issued for any class. Track/USRA points begin at TSS on May 30th.
---