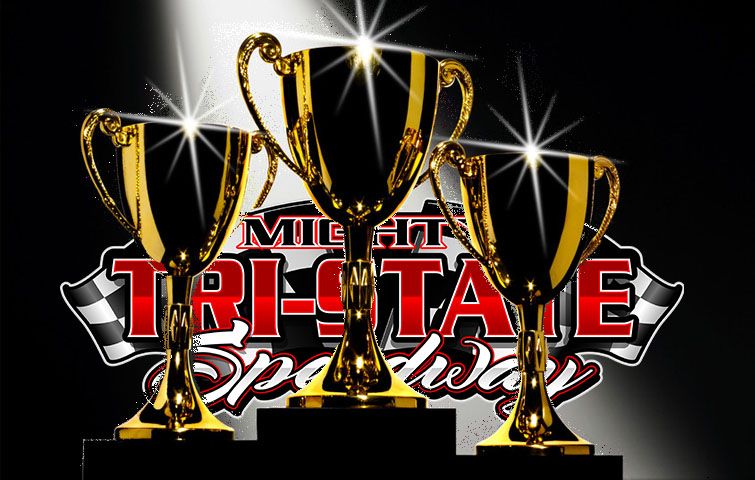 Jackson, Jr., Wolff, Hamby, Womack and Foster Pick Up Victories
Rob Nugent, Track Announcer/Social Media/PR
THE EVENT
POCOLA, OK (June 28th & 30th, 2018) – Racing action took place at the mighty Tri-State Speedway on both Thursday and Saturday nights. Thursday night action saw the Comp Cams SuperDirt Series Late Models presented by Lucas Oil challenge the high banks along with the USRA Modifieds. Saturday night saw regular racing action during the 47th Annual Firecracker Spectacular and 6th Annual Curtis Tennant Memorial with the Out-Pace USRA B-Mods going topless for a 40-lap $1,5000 to win A Feature.
Mother Nature kept up her mid to upper 90-degree temperatures without any rain at the speedway. Once again, the track prep crew had the track ready to go at race time, with no packing required from the drivers. The track was fast, wide and smooth for both nights of racing action.
The pre-race ceremonies started at 8:06 PM on Thursday night with the invocation followed by the national anthem as several cars presented the nation's flag around the speedway. On Saturday night, the pre-race ceremonies began at 8"04 PM with the invocation from Vietnam Army veteran, Sonny Stephens. This was followed by a memorial reading in honor of the late Curtis Tennant. Many cars, including his brother, Jeff, took to the track for a parade lap in his honor during the National Anthem performed by Sonny Stephens.
Heat races were determined by the driver's draw at sign on both nights for the regular TSS classes. The CCSDS Late Models used time trials to determine their heat race starting positions. The TSS classes both nights, except the Out-Pace USRA B-Mods, advanced to their features heads up with an invert redraw that determined how many cars would be realigned. The B-Mods were lined up for their 40-lap $1,500 to win A Feature by passing points from their heat races.
At intermission on Saturday night, everyone hurried to grab themselves some food items from the concessions along with an ice-cold Pepsi product before the huge fireworks salute to America. The 50/50 drawing on Saturday night was held right after the big B-Mod special race. Thanks to our sponsors, Shamrock Bolt & Screw and Midwest Automation, who sponsored both Thursday and Saturday night's racing action, as well as Merrill Bonding Company on Thursday night.
TOP THREE - THURSDAY
The USRA Modifieds took to the high banks first for their A Feature. Tyler Wolff (4 – Fayetteville, AR) picked up the big $1,200 paycheck over Trevor Latham (27 - Rogers, AR) and Patrick Goodnight (2G – Fort Gibson, OK) in third place. George Martin (15 – Fort Smith, AR) retains the point lead by 19 points ahead of second.
The last race on the track was the Comp Cams SuperDirt Series Late Models A Feature. Tony Jackson, Jr. (56JR – Lebanon, MO) take the $3,000 win over Cade Dillard (97 – Robilene, LA) and Jesse Stovall (00 – Billings, MO). Full results can be found here: http://compdirt.com/results/2018/results062818.html
TOP THREE - SATURDAY
There were no NexGen drivers on hand Saturday night, but there is still time to get racing this season with your own NexGen car. The NexGen class is an entry-level, low-cost, no racing experience class. You can find the simple rules on our website, at www.Tri-StateSpeedway.com, under Driver Info and then Rules. Blaise Leatherman (94L – Muskogee, OK) is the current points leader.
The first A Feature was for the Out Pace USRA B-Mod topless A Feature. Dakota Foster (5 – Edgerton, KS) headed to victory lane for the $1,500 paycheck. Brandon Wilson (4B – Fort Smith AR) and Steve Muilenburg (Sparta, MO) finished second and third. Since this was not a points race, Daniel Tarkington (2 – Checotah, OK) remains the class points leader heading into the next points race on July 14th.
The Super Stock A Feature rolled onto the track next. Danny Womack (3 - Bixby, OK) took home his fifth win of the season over Ty Evans (5E – Fort Smith, AR). Kyle Slader (19S – Muskogee, OK) finished in third. H Palmer (X15 - Muldrow, OK) takes over the top position in points with a slim 3-point lead.
The last A Feature on the track was for the Factory Stocks. Kyle Hamby (7 – Hackett, AR) took home his third win of the season. This was also Hamby's second win in a row. Andrew Bohanan (33 – Stigler, OK) and Austin Farnam (119 – Fort Smith, AR) finished in second and third. Hamby sits atop the point standings with a 65-point advantage over Penson.
Complete race results can be found on our website under the "See All Results" link at the bottom of the top five results page or by clicking here: https://www.tri-statespeedway.com/full-results?EventDate=6/30/2018&EventId=242643 Current season points can also be found under the Points menu link or by clicking here: https://www.tri-statespeedway.com/points
NEXT TIME
The next event for Tri-State Speedway will be on July 14th, 2018 for the annual BACA (Biker's Against Child Abuse) Kid's Night and Bicycle Races. That will be followed up by the 20th Annual $5,000 to win Super Stock Showdown the following week. More information on all events can be found on our website and our social media channels.
We will see YOU soon!
---