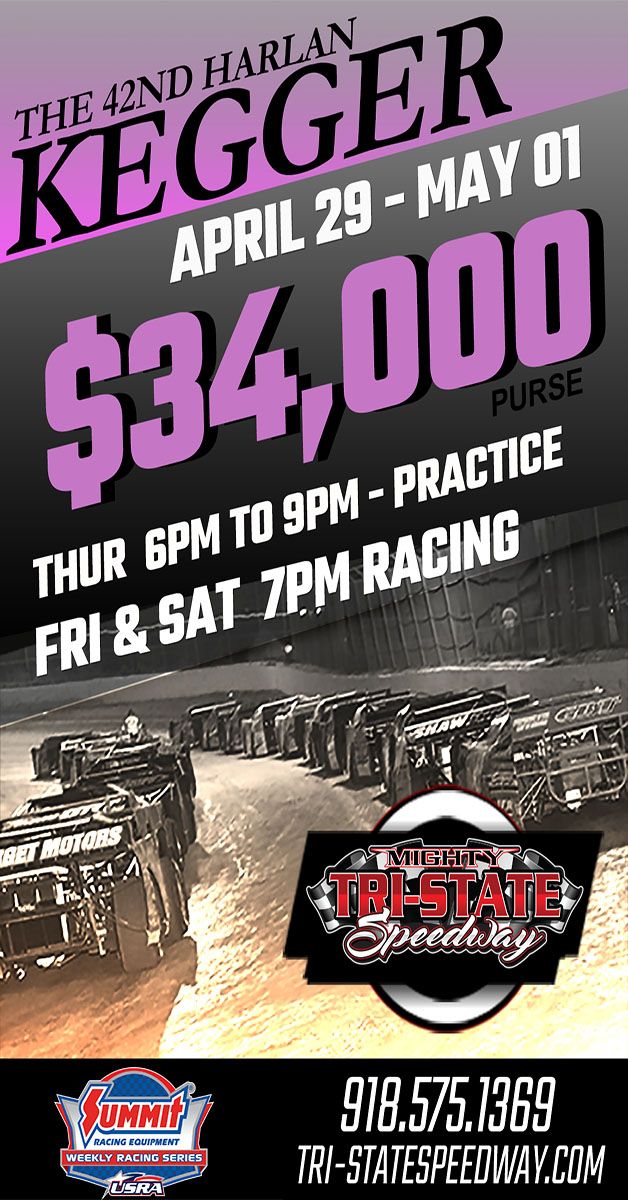 42nd Annual Kegger Honoring Cecil Harlan
The 42nd Ann
ual Kegger Honoring Cecil Harlan returns to the mighty Tri-State Speedway on April 29th, 30th and May 1st, 2021. The event will kick off our 51st consecutive year of racing on the famous high banks in Pocola, Oklahoma.
Cecil was a long time owner and promoter of the mighty Tri-State Speedway in the late 70's, 80's and 90's. Not only was he an owner and promoter, but Cecil served as a board director for several racing organizations such as NCRA, IMCA, and MLRA. He also received the coveted Lifetime Achievement Award from the Ozark Vintage Racing Association for his 30+ years of dedication to the sport of stock car racing in the states of Arkansas, Missouri, Oklahoma, and Kansas. In 1994, In 1999, Cecil was recognized as one of the top promoters in the country when he was awarded the Lanny Edwards Award. The award was presented to him by then Texas Governor George W. Bush at Texas Motor Speedway. Cecil passed away on November 23, 2011, of Lou Gehrig's Disease.  
This year's Kegger will feature over $34,000 in prize money up for grabs in multiple classes. The event will host racing in Front Wheel Drives, Mini-Stocks, 360 Mods, USRA Factory Stocks, USRA Street Stocks, USRA B-Mods, USRA Modifieds, as well as Super Stocks/Grand Nationals. All non-USRA classes will be racing area track rules. The Kegger will also be the first night of track season points and will be a USRA point night,
 EVENT TIMES
Pit Gate: 4:00 • Grandstands: 5:30 • Racing: 7:00
 GRANDSTANDS
Friday: $10 • Saturday: $15 • Kids 10 and under: FREE • Military (past or present with proof of service): Free
 PIT PASS
Friday: $30 • Saturday: $35 • Kids 6-12: $15 - under 6: Free
  SCHEDULE OF EVENTS
Friday April 30
FWD - $200w/$40s
Mini Stock - $200w/$40s
360 Mods - $400w/$60s
USRA Factory Stock Qualifying - $1000w/$150s | $50 Entry Fee
USRA Stock Car Qualifying - $1500w/$200s | $75 Entry Fee
USRA B-Mods Qualifying - $1500w/$200s | $75 Entry Fee
Saturday May 1
USRA Factory Stock – LCQ & A Feature
USRA Stock Car – LCQ & A Feature
USRA B-Mods  - LCQ & A Feature
Super Stock/Grand Nationals - $400w/$60s
USRA Modified - $2000w/$300s | $150 Entry Fee
For more information, please call/text the track pone at 918.575.1369. All drivers competing must have a current registration (free) and tax information on file with us before getting paid. Please print and fill out the tax form and bring with you or you'll have to fill it out at the track. Also, all USRA drivers will either need to have a valid USRA license for 2021 or purchase a temporary license for the event. You can click here to get information on registering and links to do so: https://www.tri-statespeedway.com/registration
We'll see YOU there!
---