2021 Tri-State Speedway Schedule Released
The mighty Tri-State Speedway is proud to release their 2021 season schedule.


The 2021 season will include weekly USRA - United States Racing Association racing in four sanctioned classes: USRA Factory Stock, USRA Stock Car, USRA B-Mod and USRA Modified. Each class will be competing for track, regional and national points. For rules on each class, as well as track rules, please visit
www.tri-statespeedway.com/rules
Each of the four classes will also have a big money event during the season, too.

Pit gates will open at 4 PM and stands will open at 6 PM. Hot laps will start at 7 PM with racing to follow. Times may vary for special events and may be adjusted during the hot summer months.
Admission pricing will remain the same in 2021. Grandstands will be free for children 10 & under and adults will be $10. All military, past or present, will get into the stands free with proof of service at all events in 20201. Pit passes will be $30 for adults and kids 6-12 will be $15. Pricing may vary for special events.


Also on the schedule for 2021 are special events for the DirtTrack Bank Cash Money SuperDirt Series presented by Midwest Sheet Metal, USMTS - United States Modified Touring Series, , and Lucas Oil American Sprint Car Series where the ASCS Sooner Region will compete against the ASCS Mid-South Region.
.We are also proud to host The Steel Horse Rally Shootout III flat track motorcycle racing as part of The Steel Horse Rally again this season.
Our historic events will also return for 2021 including the season opening Kegger, the Firecracker Spectacular, the Super Stock Showdown and the gigantic Spooker. Some recently newer events will also be back including the USMTS Juggernaut, late model and sprint car events and the USRA Modster Mash. There may also be a few additions to the schedule as the season progresses.


We hope everyone enjoys this upcoming season and comes out each night for the best and fastest local dirt track racing on the famous high banks of the mighty Tri-State Speedway in Pocola, OK during our 51st consecutive year of racing.

April 10 - Car Show
April 17 - Test & Tune
April 24 - Test & Tune
April 29, 30, May 1 - 42nd Annual Kegger Honoring Cecil Harlan
May 7 (Friday) - Steel Horse Shootout iii
May 28, 29 - Memorial Day Weekend Special
June 3,4,5 - USRA B-Mod Special
June 12 - Ca$h Money SDS Late Models
June 26 - USRA Weekly Racing
July 3 - 50th Annual firecracker Spectacular Honoring Curtis Tennant
July 10 - USRA Weekly Racing
July 17 - USRA Weekly Racing
July 29, 30, 31 - USRA Factory Stock Special Honoring Danny Martinez
August 28 - USRA Weekly Racing
September 3,4, 5 - 23rd Annual Super Stock Showdown Honoring Randy Russell
September 11 - Ca$h Money SDS Late Models
September 23, 24, 25 - USRA Stock Car Special
October 2 - 51st Annual Point Championship Races Honoring Tillman Evans
October 9 - ASCS Sprint Cars (Sooner Region vs. Mid-South Region)
October 20, 21, 22, 23 - 42nd Annual Spooker Honoring John Stand
October 28 (Thursday) - USRA Modster Mash - King Of The Ring - Episode 1


* All dates/events subject to change.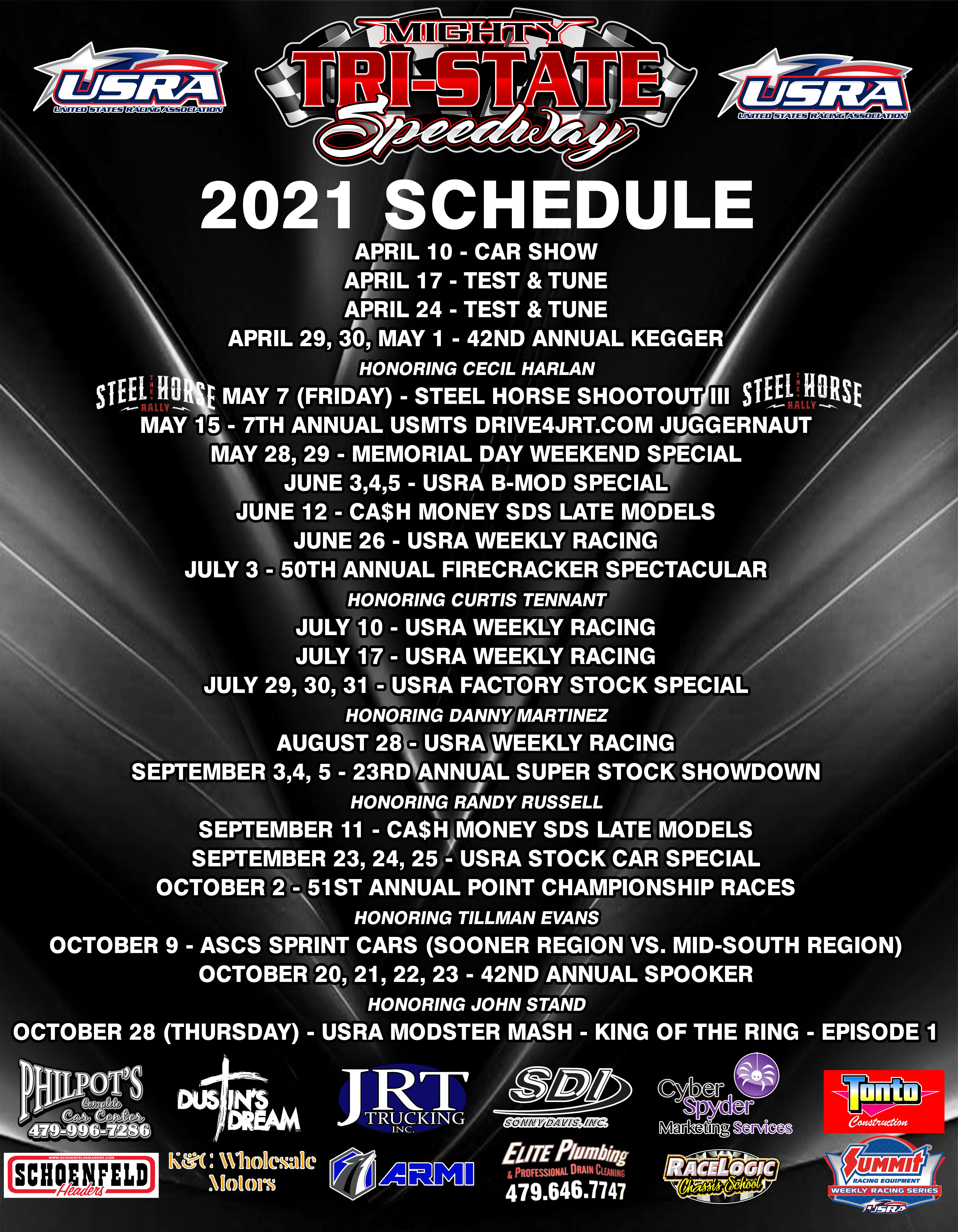 ---